First of all, it's been requested that I post a photo of my new coiffure. I believe that the photos included within this post should suffice.
9 weeks ago, it was suggested that I "reduce" as my health was beginning to suffer. I henceforth joined Weight Watchers - the royally endorsed weight control program. While I've enjoyed myself immensely, I have been remiss in not chronicling my endeavors. Therefore, I give you the following:
07/26/07 Week 1: First Meeting. No loss.
08/02/07 Week 2: -1.2
08/09/07 Week 3: -3.6
08/16/07 Week 4: -1.4
08/23/07 Week 5: +0.8
08/30/07 Week 6: -3.8
Photo taken 9/2/07
Note lack of definable waist and tummy larger than bewbies
09/06/07 Week 7: +0.2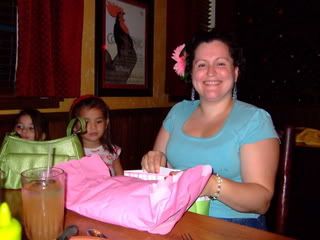 Photo taken 9/9/07
Notice the waist is more defined and SMALLER than bewbies
09/12/07 Week 8: ???
Photo taken 9-12-07
Notice defined waist, smaller arms and smaller upper arms & abdominal area


For a grand total of 9.0 pounds lost. This is Week 8 and tonight is my meeting and weigh in. I will say that I've lost a half size in my shoes and at least 2 dress sizes on my posterior. I've lost 1-2 shirt sizes as well.
And now for the scariest part, the extreme "before" picture taken March of 2007:
Is it the same person? Can it be? Stay tuned for the next installment of [ominous theme song] The Incredible Shrinking Empress!